Zurück zur Liste
Nachrichten
EuroVelo Cycling Jersey, now made in the EU
Donnerstag, 22. Dezember 2022
The long-awaited refresh of the iconic EuroVelo Cycling Jersey is here. Available in sizes S, M, L, XL, 2XL in limited quantity. Show your support for EuroVelo and make sure to grab one today!
Think carefully, what is that one piece of clothing you (secretly) can not live without? Well, if you ask anyone at ECF, it is the iconic EuroVelo Cycling Jersey. Fun fact: it was also the first ever EuroVelo merchandise item! And if you are a EuroVelo fanatic like us, why not come and show your support by donning these refreshed colours.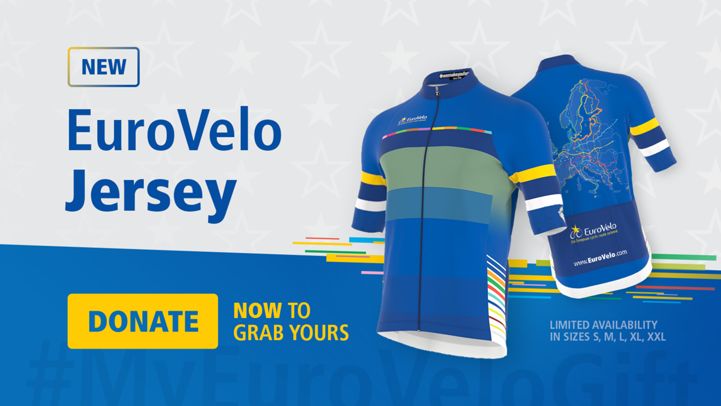 The new jersey is made of high-quality lightweight fabric, designed and produced in collaboration with Bioracer. It is composed of little details such as an elastic waistband with silicone gripper, practical three open back pockets to carry items and a full front zipper for convenience.
We are proud to say that the jersey is produced entirely in factories across the EU. This was an important goal for us during conception and to keep control over the production process. And, on some level, it plays into our idea to connect people and places across Europe by bicycle. In Bioracer, we have a reputed and committed partner with over a hundred years of cycling apparel history. So yes, it is "Made in EU", and it will remain so across our entire merch range going forward (hint, hint).
Speaking of history, did we mention that, around 2015, the idea of a creating a cycling jersey was the first ever #MyEuroVeloGift conceived? Indeed, this was the thread that unravelled others (botched pun very much intended). Since then, the jersey has undergone two redesigns. The latest version benefits from all our years of experience and love poured into it.
At ECF, we understand better than others that cyclists are unique, and they have different preferences, so to reward your support for EuroVelo, we have also developed other exciting EuroVelo gifts such as cycling handbooks, caps, socks and the coveted EuroVelo map! If the jersey does not strike your fancy, head over to our donation page to see how you can help.
We appreciate any and all support!
Author(s): Omer Malak